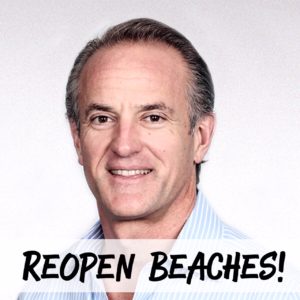 What's the story?
On May 1, 2020, Miami Beach Commissioner Ricky Arriola presented a resolution to reopen our beaches on a limited basis. Surprisingly, not a single elected official even considered the item worth discussing. Many residents, also in disbelief, called-in to the virtual meeting to express their dissatisfaction with the lack of attention to the resolution.
Arriola to reintroduce the resolution to reopen the beach…
The commissioner has kept ThankYouSurfing in the loop- and we're thankful for his personal attention!
Here's what Ricky's office had to say in their latest email correspondence:
" I'm sorry that we couldn't get the support the first time around. But, at the urging of many of you, I will reintroduce the resolution to reopen our public beach again at tomorrow's virtual Commission meeting at 9 AM. However, rather than a morning and afternoon time, I will only be asking Miami-Dade County Mayor Carlos Gimenez to reopen our public beach daily from 6 AM to 10 AM. It is far from ideal but I hope this comprise will make the measure successful."
The government needs input to move forward…
In order to pass this resolution, Commissioner Arriola needs the support from Mayor Gelber and the rest of the City Commission.
Want to support the (new) reopening plan?
The City of Miami Beach will accept public input to be included in the public record until 5 pm on May 7th.
Let his colleagues know that you support the reopening of our public beach by emailing our City Clerk ([email protected]), who will enter your position into the public record and forward your emails to the entire Mayor and Commission office. You may also directly email your elected officials.
Or, join the meeting to have your voice heard!

Special City Commission/COVID-19*
May 8, 2020 9:00 am – 1:00 pm
ZOOM Meeting/Telephonic
https://us02web.zoom.us/j/87216813089
1-312-626-6799 or 1-929-205-6099 or toll free 1-877-853-5257
Access ID: 87216813089#
This letter was developed so that you may email your local elected officials easily:
Sample Email
Mail to:
[email protected], [email protected], [email protected], [email protected], [email protected], [email protected], [email protected], [email protected], [email protected], [email protected], [email protected], [email protected]

Subject Line:
Beach Reopening Resolution (R7A) |Commission Meeting May 8, 2020

Hello,

I am writing to support the beach reopening resolution sponsored by Commissioner Arriola. It is item R7A for the May 8, 2020 Commission Meeting.

Commissioner Arriola's resolution provides the opportunity to return access to a beloved public resource. It's extremely limited in use and access times. It returns a public asset to the community. It is crafted so that enforcement/non-compliance issues are mitigated. This resolution is a good first step.

Sincerely,
Beach Reopening Resolution R7A
A RESOLUTION OF THE MAYOR AND CITY COMMISSION OF THE CITY OF MIAMI BEACH, FLORIDA, REQUESTING MIAMI-DADE COUNTY MAYOR CARLOS GIMENEZ TO: (1) RE-OPEN PUBLIC BEACHES WITHIN THE CITY OF MIAMI BEACH FROM 6:00 A.M. TO 10:00 A.M., SUBJECT TO SOCIAL DISTANCING GUIDELINES, AND (2) ALLOW VOLUNTEERS TO MONITOR WATER QUALITY AND DO BEACH CLEANUPS AT ANYTIME OF THE DAY, CONDITIONED UPON THE CITY OF MIAMI BEACH ESTABLISHING A VOLUNTEER REGISTRATION PROGRAM AND IMPLEMENTING PROCEDURES TO LIMIT GATHERINGS TO TEN VOLUNTEERS OR LESS.