ThankYouSurfing is helping to create a new network of Florida Buoys.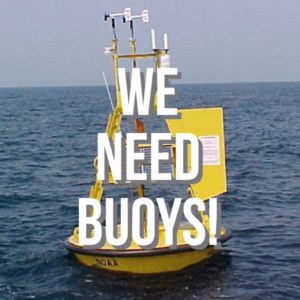 WE NEED BUOYS!
Buoys are a primary source of information for surf forecasting.
The government's buoy network is woefully underfunded.
---
Background:
In 2015, ThankYouSurfing's founder, Brad Wells, was introduced to Tony Cimaglia of CheckTheWaves, an oceanographer/ocean engineer who has been building and deploying buoys in our state's waters. Since then, we have been working to deploy additional buoys along the Florida coast to assist decision making for a number of marine interests.
Why now?
There are few remaining, critical buoys used by surfers, fisherman, divers, and boaters in our state. We are now implementing a plan to make marine data available to the public via a network of buoys deployed by CheckTheWaves.
How to help?
Let us know you care about this initiative by signing up using the form below and sharing this page.
---
Want to help?
[contact-form][contact-field label='Name' type='name' required='1'/][contact-field label='Email' type='email' required='1'/][contact-field label='Comment' type='textarea'/][/contact-form]
---