"Chill fam."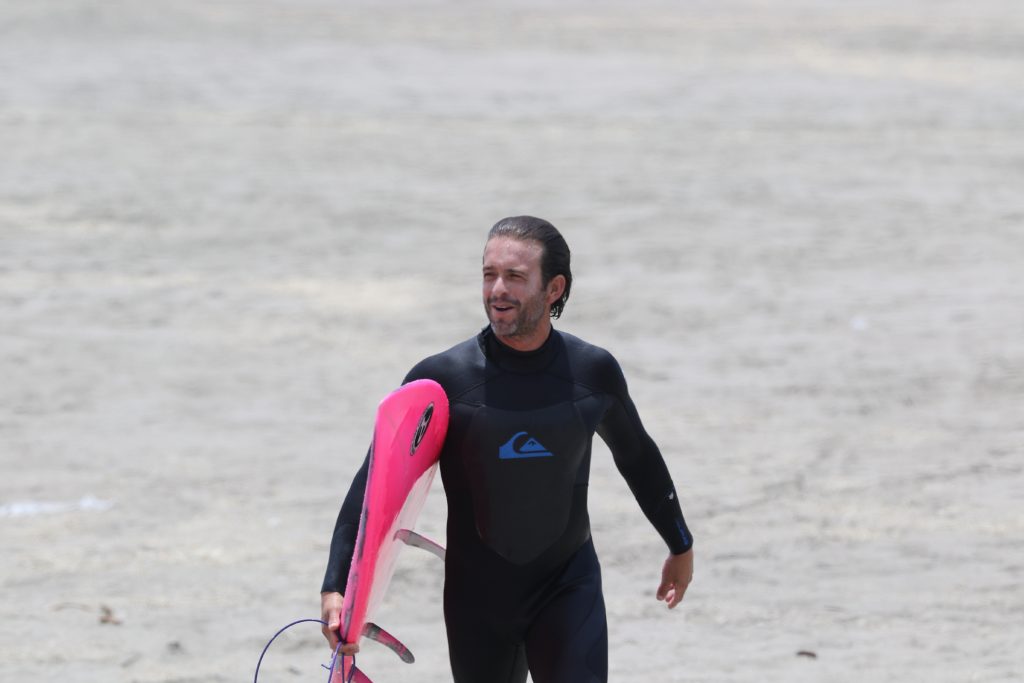 Biography
Name:
David Hernandez
Age:
38
Occupation:
Firefighter / Paramedic
Wakeboard Coach
Hometown:
Coral Gables, Florida
Current town:
Miami Beach (South Beach), Florida
Interview
Do you surf?
Hell yes!!
Favorite thing about shooting?
When the boys come up to me and ask if I got the shot. I tell them, Naw man I missed it!! I was texting. I wait to see the sad looks on their faces for a min and then bam!!!! I show them the goods and then everyone is stoked!! That's my fav part of shooting.. the stokeness everyone gets from photos. It's tough because I love to surf and work on my turns and arms etc.. but I love shooting surfing as well. It's challenging at times but it's all good.
How did you learn to shoot surf photography?
I went out and I shot!! I learned from people's advice also. For example…. continue shooting even if it looks like they didn't make it out of the barrel. I would always stop shooting once I thought they didn't make it and boom they get spit out. Going out and shooting is the only way to learn and becoming friends with the surfers helps. Learning diff shooting angles is huge as well. I haven't been surfing too long but for me, it wasn't difficult to know when to shoot the surfer or the wave, at the right moment. I come from a wakesports background. So for me, it was easy to adjust to shooting surfing. I've shot wakeboarding, wakeskate, wakesurfing for years.
Shooting set-up?
– Camera – Canon 7D Mark II (APS-C)
– Lens – Canon EF 300MM F/2.8 L IS MarkII USM (480mm with 7D MarkII)
– Extender – Canon EF 1.4x III (680mm with 7D MarkII)
How can the surf community help you?
Start a GoFundMe page for new gear and don't drop in on me, snowball me or hog all the waves when I'm surfing because you're never gonna get pics! Naw but for real surf community, just keep ripping and hopefully, I'm not texting when your getting barreled or smacking the lip!
Best day ever?
South Beach going off.
Looking forward to…
South Beach going off!
Words of Wisdom?
"Chill fam."
Best travel experience?
Doing 7 surf trips in 2017, it's tough to say- but the best time I had would have to be Peru!!! Nightlife, waves, oil rig, desserts, and food were out of control.
Bahamas trip following Hurricane Jose was dope but I got choked out by a drunk friend (no names) but still had fun and Jamaica I had another friend (no names) smack me in the ear because he was trying to teach me respect over shotgun. Costa was amazing. Pavones was an epic wave. The BOOM in Nica was all time when I was there last March. Square barrels all over. The Grand Caymans and the Dominican Republic were super fun as well.
Surf photography is…
a beautiful thing when the light is right.
Shout outs?
All the surfers for ripping no matter what level!!
@marcelmullet_ for teaching me about cameras.
@nachobizz for shooting when I can't.
All the surf shops and shapers:
@f1rstsurfshop
@islandwatersportsmiami
@cshapesmiami
@americansurfsolutions
And lastly, all the local surf photographers.. go and follow these peeps if you're not already!!
@b_uphotography
@jasonmac7
@strictlysea
@vodagraph
@charliegarcia
@nathanadams
@atlanticsurflife
@manybeaches
@surfsupwolf
Gallery
Connect
David Hernandez Instagram (Surf)
David Hernandez Instagram (Wake)
---
Like Surf Photos?